For thousands of years, roads have provided a means for safer and more efficient movement of travel, but as you will see in a moment, this is not always the case. While some of the roads on our list are heavily traveled thoroughfares, others are remote, winding, and narrow. Whatever the case may be though, the 25 Most Dangerous Roads in the World will likely convince you that walking isn't really that bad after all.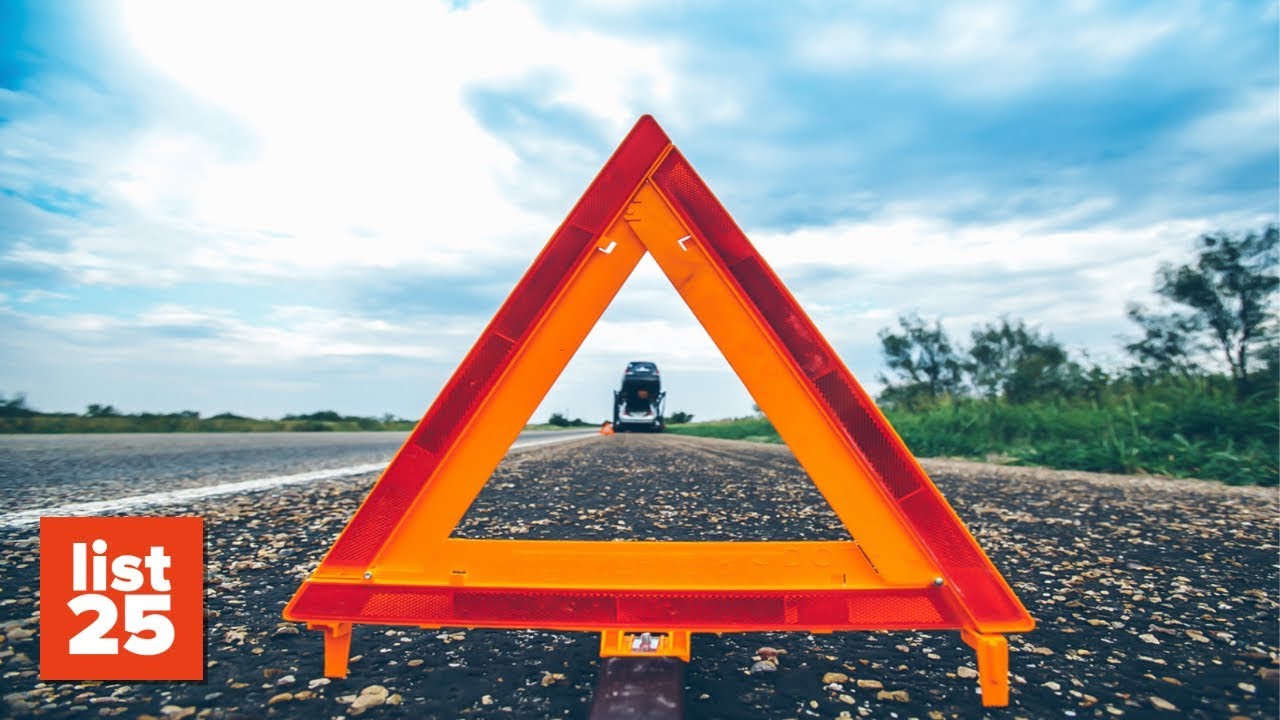 This catch all term for any road leading up into the Himalayas refers to a very dangerous network of unpaved, narrow, and slippery roads that are dotted with crashed cars and rolled over buses.
The second longest road in Brazil has been nicknamed "The Highway of Death" for obvious reasons. Every year, thousands of people die due to its poor upkeep and maintenance and even threats from gangs and bandits.
3
James Dalton Highway, Alaska
The James Dalton Highway in Alaska, although appearing serene at first glance, is filled with potholes, small flying rocks carried by fast winds, and worst of all, it runs through the middle of nowhere.
2
Commonwealth Avenue, Philippines
More popularly known as the "Killer Highway" of the Philippines, Commonwealth Avenue in Quezon City has seen numerous pedestrian, cyclist, and vehicular deaths over the years due to awful regulations and enforcement of traffic laws.
1
North Yungas Road, Bolivia
Also known as the "Road of Death" in Bolivia, it is often cited as the most dangerous road in the world. It is a regular occurrence for buses and trucks to go tumbling to the valley below, especially when they try passing each other. Yeah, walking doesn't sound too bad after all.
Photo: 1. No machine-readable author provided.
Ilosuna
assumed (based on copyright claims).,
Bolivia Yunga Road
,
CC BY-SA 3.0
, 2. WikipediaCommons.com (Public Domain), 3. WikipediaCommons.com (Public Domain), 4. Claudio Oliveira Lim…,
BR 116 Rodovia Presidente Dutra - SP - panoramio
,
CC BY-SA 3.0
, 5.
Vishalnagula
,
Typical himalayan roads
,
CC BY-SA 4.0
, 6. LosApos.com,
Guoliang alagút2
,
CC BY-SA 3.0
, 7. Tom Cheng,
Taiwan 2009 HuaLien Taroko Gorge Biking PB160057
,
CC BY-SA 3.0
, 8. Marco Usan,
Pasubio rifugio Papa, Vicenza - panoramio
,
CC BY 3.0
, 9. Leocadio Sebastian,
Highest Point Philippine Highway System
,
CC BY 2.0
, 10. WikipediaCommons.com (Public Domain), 11.
Omar Usman Khan
,
Road to Fairy Meadows, Near Nanga Parbat
,
CC BY-SA 3.0
, 12. Photo: Przemyslaw "
Blueshade
" Idzkiewicz.,
Luxor, West Bank, Valley of Kings, overview, Egypt, Oct 2004
,
CC BY-SA 2.5
, 13.
Bidgee
,
Barton Highway near the Hume Highway exits (2)
,
CC BY-SA 3.0 AU
, 14. WikipediaCommons.com (Public Domain), 15. wfmillar,
A726, Rashielee, Erskine - geograph.org.uk - 1733900
,
CC BY-SA 2.0
, 16.
Alicia Nijdam
from Cordoba, Argentina,
Yungas road-Death road (8264757023)
,
CC BY 2.0
, 17.
JP Davidson
,
High pass on Sichuan Tibet Highway
,
CC BY 2.0
, 18. Diego Delso,
Vista de Iquique, Chile, 2016-02-11, DD 07
,
CC BY-SA 4.0
, 19. Dr Neil Clifton,
The A682 near the 'Moorcock' - geograph.org.uk - 873062
,
CC BY-SA 2.0
, 20. OLU,
Lay-by on the A44 at Penlon - geograph.org.uk - 213641
,
CC BY-SA 2.0
, 21.
unukorno
,
Peru, Pan-American Highway (Carretera Panamericana)
,
CC BY 2.0
, 22. Ciencia1.com,
Volcanes Cotopaxi y Pasochoa en el valle de los Chillos - panoramio (1)
,
CC BY-SA 3.0
, 23.
Amcs1983
,
The Stelvio pass
,
CC BY-SA 3.0
, 24.
mark9white
,
Mexico Highway 1
,
CC BY 2.0
, 25.
Mike1979 Russia
at
Russian Wikipedia
,
Трасса "Байкал".Красноярск - Иркутск.Район Тайшета
,
CC BY-SA 3.0